Rabbi Robby and Shoshana Charnoff arrived at Queens College in the Summer of 2013 and are the proud parents of Aliza and Aharon! With the addition of Channah Cohen, they have been instrumental in establishing consistent Shabbat and holiday programming, daily learning opportunities, exciting events, and a warm home on campus for the 1,000+ Orthodox students at Queens College.
Rabbi Robby Charnoff was born and raised in New York. He spent two years studying at Yeshivat Netiv Aryeh in the Old City of Jerusalem. He subsequently attended Yeshiva University where he graduated summa cum laude with a BA in psychology. Rabbi Charnoff received semikah from Yeshiva University's RIETS rabbinic program as well as from R. Zalman Nechemia Goldberg of the Rabbinical High Court in Jerusalem. He obtained a Master's Degree from the Azrieli School of Jewish Education and Administration and is currently in YU's certificate program in Experiential Jewish Education. Rabbi Charnoff served as the rabbinic intern at Congregation Ohab Zedek's on the Upper West Side of Manhattan and has been a guest lecturer at many synagogues throughout the New York area, including the Young Israel of Woodmere, Lincoln Square Synagogue, the Manhattan Jewish Center, the Irving Place Minyan, and the Young Israel of Kew Gardens Hills.
Rabbi Charnoff is proud to be the first OU-JLIC Rabbi at Queens College! Rabbi Charnoff coined the phrase "turning a commuter campus into a Queens College Jewish community" and he and his wife, Shoshana have accomplished just that. The Charnoff's are the driving force behind the new daily women's Torah learning program on campus, HaMidrasha @ QC.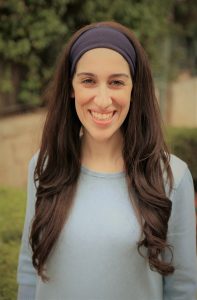 Shoshana Charnoff is excited to be the first OU-JLIC female Torah Educator at Queens College. Originally from Philadelphia, Shoshana went to Akiba Hebrew Academy for high school. Following graduation, Shoshana studied at Midreshet HaRova in the Old City of Jerusalem for a year and a half. Shoshana graduated with honors from Stern College for Women with a BA in English Literature and also earned a teaching certificate from the Israeli Ministry of Education to teach students in the Diaspora. Additionally, Shoshana is a certified Kallah teacher through the National Council of Young Israel.  While at Stern, Shoshana served as the President of the Torah Activities Council (TAC), where she managed, guided, and facilitated all religious activity on campus, and was awarded for her excellence in communal leadership.
After graduation, Shoshana and her husband Robby spent two years in the Yeshiva University's Gruss Institute. Shoshana has worked for the Jewish National Fund, Aish Hatorah and various Hebrew Schools throughout Manhattan. Shoshana and her husband Robby are the parents to Aliza and Aharon.

Channah Cohen hails from the windy (and snowy, and awesome) city of Chicago. After two years at Tomer Devorah Seminary in Israel, Channah attended Stern College for Women for two more years as a major in Psychology, serving on the Torah Activities Counsel and graduating summa cum laude with the Leadership and Vision Award. Subsequently, she traveled back to Israel as a madricha, where she met her wonderful husband Jeff.
Upon her return from Israel, Channah completed a Masters in Adult Learning & Leadership at Teachers College, Columbia University. The only thing that makes her happier than speaking about her dense thesis on Transformative Learning in Religion (copies available upon request!) is to work for OU-JLIC at Queens College, teaching, learning, and being part of the vibrant Jewish Community on campus. Channah lives in Passaic, NJ with her husband Jeff and their children Aryeh and Shifra, all of whom she adores.