Shlomo Brukirer grew up in Suffern, NY, and descends from over 30 generations of Jewish educators. While learning in the Mir Yeshiva in Israel, he helped cofound ZAY, a program for young adults struggling with substance abuse. He spent two years learning Halacha in Yeshivas Torah Voda'as, before marrying his wife, Ruchie. After moving to Israel, they joined the Jerusalem Kollel Rabbinical Training Program where he received smicha from Rabbi Berkovits shlita. Shlomo is always ready and willing to have a conversation or debate on classical political philosophy, ethics, and morals. He appreciates good music, experimenting in the kitchen, and getting to know people.
Ruchie Brukirer grew up in Monsey, NY, and is a proud mother of two rambunctious boys. She worked with special needs adults while studying for her bachelor's degree. After moving to Israel, she balanced being a part of the Jersualem Kollel, earning her master's degree in Speech Therapy and making Shabbos meals for the many guests they had. While in the Jerusalem Kollel, she studied topics from Rabbi Berkovits shlita such as Jewish theology, Cycle of Life, and Halacha as well as a course in training to give Kallah classes. Ruchie enjoys reading a good book, drawing, and taking a nature hike. She enjoys getting to know people over a traditional home cooked meal.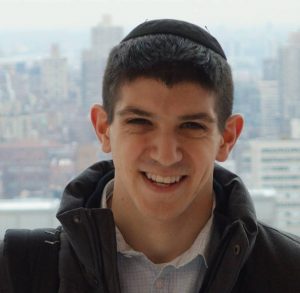 Rav Michael Goldman hails from Englewood, New Jersey. After spending a year in Israel at Yeshivat Sha'arei Mevaseret Zion in Jerusalem, he attended Queens College with a major in psychology. Rav Michael was very involved in Jewish life at Queens College. In particular, he served as the inaugural OU-JLIC intern on campus and played an integral role in building an on-campus community.
After graduating, Rav Michael received semicha from RIETS and a Master's Degree from the Azrieli School of Jewish Education and Administration at Yeshiva University. During that time, he continued working with OU-JLIC at their national office in Manhattan. Not before long, Rav Michael returned to Queens College as an OU-JLIC rabbinic intern and fostered relationships with many students and the community as a whole. Rav Michael has since served as a Beit Midrash Fellow at SAR High School, where he gave classes, shiurim, and chaburot.
Rav Michael is excited to be back at Queens College as an OU-JLIC Torah Educator. He has a long and rich history with this Queens College, and he is excited to bring his passion and energy to the Jewish community on campus.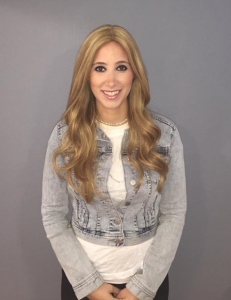 Ashley Cohen hails from Long Island. She attended Indiana University where she majored in Fashion Merchandising and minored in business and writing. After college, she made a big location and lifestyle change, and went to study at Midreshet Rachel v' Chaya in Israel. After two amazing years, she returned to NY where she met her husband, Elan. She then went on obtain her Masters Degree in School Counseling from Queens College (!) and eventually her Advanced Certification in Mental Health Counseling, as well.
Ashley has always been passionate about guiding, educating and inspiring girls to become the best versions of themselves. She has been a madricha on several Israel trips, a mentor on Partners in Torah, and received a Marriage Coaching Certification from Rabbi Nivin. She has written articles for various magazines and online forums, such as FYI magazine, Shabbat.com, and Aish.com, on topics such as self-esteem, body image, and confidence. She has also been a speaker on these topics, highlighting the beauty of a Jewish girl in her talks at the Aish Partners Conference and various Jewish seminaries and schools.
Ashley currently lives in the Five Towns with her husband and 3 (very little) kids.