Rav Benny and Sara Berlin are proud to be the OU-JLIC Co-Directors and Torah Educators at Queens College! They look forward to establishing consistent Shabbat and Holiday programming, numerous daily learning opportunities, exciting events, and a warm home on campus for the 1,000+ Orthodox students at Queens College. They believe in empowering a network of dedicated students, all in the spirit of building confidence and readying them to be part of the larger Jewish community.
Rav Benny Berlin was born in St. Paul, Minnesota and raised in Teaneck, NJ. He spent two years studying at Lev Hatorah in Ramat Beit Shemesh. He subsequently attended Lander College for men where he graduated summa cum laude with a BA in psychology. Rav Benny received semikhah from Yeshiva University's RIETS rabbinic program as well as from Ohr Somayach and Pirchei Shoshanim. He obtained a Master's Degree from the Touro School of Jewish Education and Administration, graduating as a Legacy Heritage Fellow.
Rav Benny served as the rabbinic intern at the East Hill Synagogue from 2014-2018, where he was involved in leading community services and implementing programs to foster community integration. Rav Benny and his wife Sara also led two inspiring trips to Poland with the 12th graders of the Englewood community as part of the Asher Strobel Leadership Program.
Rav Benny also served as the Co-Director of the Community Campaign at Jewish National Fund, successfully launching JNF Tu B'shvat programs across the country, creating and implementing curriculum to be used with a focus on young professionals.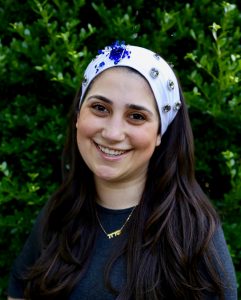 Originally from Teaneck NJ, Sara Berlin went to Frisch for high school. Following graduation, Sara studied at Tiferet in Ramat Beit Shemesh for a year. She graduated with honors from Stern College for Women with a BA in Psychology. Additionally, Sara is a certified Kallah teacher through OU-RCA-Nishmat, and has learned with Kallot in the Englewood community. While at Stern, Sara served as an RA, where she managed, guided, and facilitated religious activity on campus, and was commended for her excellence in communal leadership. After graduation, Sara completed her Social Work degree at Columbia University and is on track to obtain a license as a clinical social worker (LCSW) with a specialization in children/adolescent mental health.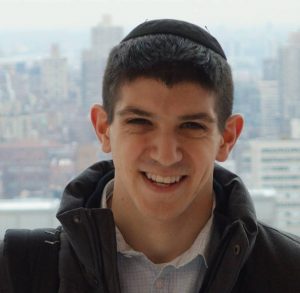 Rav Michael Goldman hails from Englewood, New Jersey. After spending a year in Israel at Yeshivat Sha'arei Mevaseret Zion in Jerusalem, he attended Queens College with a major in psychology. Rav Michael was very involved in Jewish life at Queens College. In particular, he served as the inaugural OU-JLIC intern on campus and played an integral role in building an on-campus community.
After graduating, Rav Michael received semicha from RIETS and a Master's Degree from the Azrieli School of Jewish Education and Administration at Yeshiva University. During that time, he continued working with OU-JLIC at their national office in Manhattan. Not before long, Rav Michael returned to Queens College as an OU-JLIC rabbinic intern and fostered relationships with many students and the community as a whole. Rav Michael has since served as a Beit Midrash Fellow at SAR High School, where he gave classes, shiurim, and chaburot.
Rav Michael is excited to be back at Queens College as an OU-JLIC Torah Educator. He has a long and rich history with this Queens College, and he is excited to bring his passion and energy to the Jewish community on campus.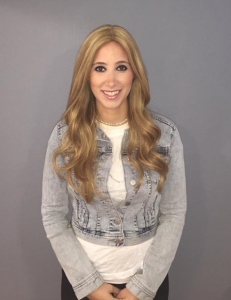 Ashley Cohen hails from Long Island. She attended Indiana University where she majored in Fashion Merchandising and minored in business and writing. After college, she made a big location and lifestyle change, and went to study at Midreshet Rachel v' Chaya in Israel. After two amazing years, she returned to NY where she met and married her awesome husband, Elan. She then went on obtain her Masters Degree in School Counseling from Queens College (!) and eventually her Advanced Certification in Mental Health Counseling, as well.
Ashley has always been passionate about guiding, educating and inspiring people to become the best versions of themselves. She has been a madricha on several Israel trips, a mentor on Partners in Torah, and received a Marriage Coaching Certification from Rabbi Nivin. She has written articles for various magazines and online forums, such as FYI magazine, Shabbat.com, and Aish.com, on topics such as self-esteem, body image, and confidence. She has also been a speaker on these topics, highlighting the beauty of a Jewish girl in her talks at the Aish Partners Conference and various Jewish seminaries and schools.
She currently lives in the Five Towns with her husband and 3 (very little) kids, Sara Zehava, Binyamin, and Shaya.
She is so excited to join the team at OU-JLIC of Queens College!
Ayele
t Shachar hails from the great county of Queens itself. After attending SKA, she spent a year and a half learning at Shaalvim for Women. Upon returning, she (just like all of you!) completed her undergraduate studies at Queens College, majoring in psychology and double minoring in business and Jewish studies. Following graduation, she began doctoral studies at Hofstra University, where she is currently pursuing a Psy.D in school and clinical-community psychology.
Passionate about igniting passion in others, Ayelet has been involved in both formal and informal education. She has welcomed the opportunities to teach, serve as a mentor and run programming at various schools including: SKA, HANC High School and Bnos Malka Academy. She was an advisor for Midwest NCSY as well as a madricha on Michlelet, where she eventually assumed the role of head counselor. Most recently, she spearheaded the OU ALIT summer program, a four week intensive learning program in Israel for women of all ages.
Ayelet comes to campus with the hopes of fostering an authentic connection to Judaism in students and the desire to facilitate learning and growth that is genuine, personal and meaningful. She feels privileged to have the opportunity to do so right back on the QC grounds, where her own love of Torah was fueled through OU-JLIC.